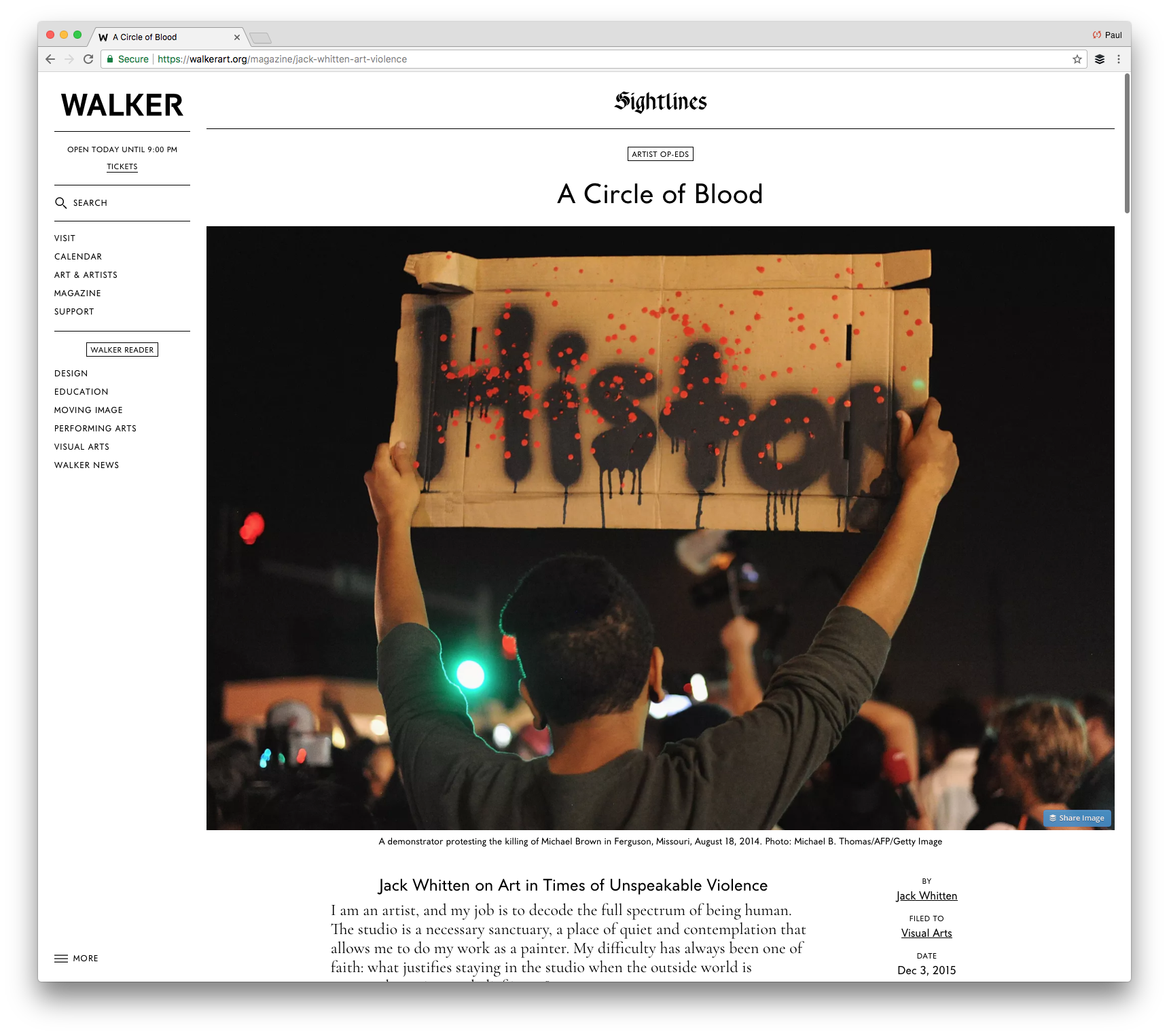 Artist Op-Eds
Examining the thinking of artists as citizens and change-makers, this Walker Art Center series of commissioned opinion pieces features provocative reactions to the headlines by contributors including Ron Athey, James Bridle, Natascha Sadr Haghighian, Naeem Mohaiemen (with Hans Haacke), Postcommodity, Ana Tijoux, Dread Scott, Jack Whitten, Gary Simmons, and others. Taking inspiration from artistic and political leafletting throughout history—from Thomas Paine's Common Sense to the Great Bear Pamphlets—each op-ed is also available as a slim print-on-demand publication. In May 2017, we launched the publication of our eleventh op-ed, "2043: No Es Un Sueño" by the indigenous collective Postcommodity, at our first live launch event and artist talk (watch the discussion). The twelfth installment in the series, by experimental filmmaker Sky Hopinka, was launched in April 2018; the artist visited the Walker in September for a screening and artist talk on his films and the op-ed. As editor of the Walker's digital magazine, Walker Reader, I conceived of the series, select and commission artists, work with writers in shaping their texts, edit, publish, and promote each contribution).
Artist Op-Eds Press/News
Sculptor Gordon Hall's 2016 op-ed, "Reading Things: On Gender, Sculpture, and Relearning How to See," will be excerpted in the catalogue for Slant Step Forward, an exhibition opening in September 2019 at Verge Center for the Arts in Sacramento.
Jack Whitten's 2015 Artist Op-Ed, "A Circle of Blood: Jack Whitten on Art in Times of Unspeakable Violence," will be reprinted in the catalogue for Jack's Jacks, the late artist's first European solo show, at Hamburger Bahnhof in Berlin in May 2019.
"The Centers of Somewhere," experimental filmmaker Sky Hopinka's op-ed meditating on power, privilege, and indigenous identity, has been reprinted in the editioned artist's book, Around the Edge of Encircling Lake (Milwaukee: The Green Gallery, 2018).
Introduced to Walker Art Center audiences through the collective's March 2017 Artist Op-Ed, Postcommodity's art has been acquired and is featured in the new Walker permanent collection exhibition, I am you, you are too, September 7, 2017—October 27, 2019.
The Graham Foundation for Advanced Studies in the Fine Arts stocked all op-eds in its bookshop, as well as its satellite shop at the 2017 Chicago Architectural Biennial, as part of its curatorial project, "Make New History."
Introduced to Postcommodity's art during our March 2017 Artist Op-Ed launch event/artist talk, author Louise Erdrich later agreed to write for Walker Reader about the indigenous collective's contributions to documenta 15, two installations subverting the sonic weaponry used against water protectors at Standing Rock, April 18, 2017.
"The Loneliness of the Long-Distance Campaign," by Gulf Labor Coalition member Naeem Mohaiemen (with photos by Hans Haacke) has been republished in the book, Assuming Boycott: Resistance, Agency, and Cultural Production (OR Books, 2017).
"A sober and human account of the ins-and-outs of the artist-led campaign to make Abu Dhabi's Guggenheim project deliver on its commitments to workers rights." Ben Davis, naming Naeem Mohaiemen's Artist Op-Ed one of the nine "Stand-Out Art Essays From 2016," December 27, 2016.
Natascha Sadr Haghighian's essay "A Crossing" was republished in the book Social medium: artists writing, 2000–2015 (Paper Monument, 2016).
In "How museums learned to stop worrying and love the digital world," Star Tribune journalist Kristin Tillotson referenced op-eds as an audience engagement and contexualization tool (March 8, 2016).
In "Why rapper Ana Tijoux won't be a sex object for her music," The Los Angeles Times' Carolina Miranda based an entire column on the Chilean rapper/emcee's op-ed (October 6, 2014).
"We congratulate the Walker Art Center for initiating a wonderfully innovative, commissioned artist op-ed series 'examining the thinking of artists as citizens and change-makers,'" Massachusetts Artist Leaders Coalition, July 14, 2014.
"Everyone is writing op-eds: Taylor Swift, Tyra Banks, a Border Collie. Artists, too, are getting more words out there than ever, thanks to the Walker Art Center; it launched its Artist Op-Eds project today, " writes Art F City, July 8, 2014.